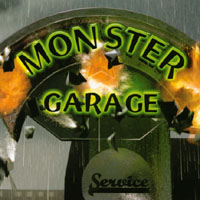 Adding to the steady stream of major IndyCar series sponsorship announcements from the likes of DirecTV, Coca-Cola, and Raybestos comes a promotional sponsorship from Mac Tools. It would seem that whoever leads the most laps this season from both Indy Racing League series (IndyCars and IndyLights) will get "an allotment of Mac Tools products" for the accomplishment.

Now I don't know about the rest of you, but when I think of Mac Tools I think of one thing: "Monster Garage". Yes, that rocked-out show where Jesse James of West Coast Choppers took cars and made them into things like lawn mowers and wood chippers and donut makers. And as they said in every episode, if the sweaty, foul-mouthed, tattooed builders finish the job they all got a nice set Mac Tools, although I suppose you could phrase it as an "allotment of products" as well.

Despite not producing any new episodes for a few years this is currently P2's favorite show. (Yeah, he's a different kind of six-year-old.) Thanks to Netflix we're cycling through DVD's of old episodes, and on the latest disc we watched there was an episode called "Street Line Racer" which featured a Champ Car Reynard chassis from 1999 being turned into a street painter. That's one of those deals that sprays lane stripes on the road. No joke. Here's a pic.

When finished the "racer" only got up to about 90 miles per hour, which I'm pretty sure my truck could do even if you installed the painting apparatus and had the whole build team sit in the bed. Still, the episode was noteworthy for a couple of reasons. First, former Champ Car co-owner Paul Gentilozzi is featured early as the guy who helps the team with design, but he couldn't hang the whole week since he had to attend a CCWS event. This should come as no surprise since he recently bolted on open-wheel racing once we got all unified. So yeah, you could "paint" him as a quitter. Har har.

The other oddity was the build cost. Usually on the show it's like five or ten thousand dollars for the vehicle, a few thousand worth of "freebies" – usually custom rims and tires – and another three to five thousand for whatever other parts they need. But this build – I kid you not – at the end said "Vehicle Cost: $500,000". That was for a champ car chassis that was like four years old at the time of the episode. Sheesh, with costs like that no wonder the CCWS went bankrupt.

And now that I've worked "Monster Garage" into My Name Is IRL, I can die in peace.