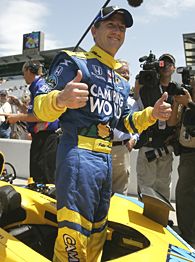 It may be barely 7am here in Arizona but I swear I just heard one of the Kevins (Lee or Olson) say that Jay Howard has been given the rest of the month off. According to the unknown Kevin, John Andretti has been given the thumbs up to drive the Roth Racing #24 machine for the Indianapolis 500 only.

And just as this is being typed the video is now showing John Andretti on the track. (In a race car, not just walking or anything.) I guess that's about all the confirmation we need.

John is already up to 220 mph while his father's nephew's son (or uncle's grandson, if you prefer) named Marco is topping the charts at 228 mph.