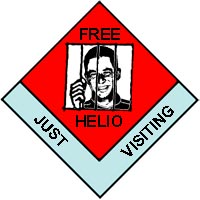 After a few more days of testimony, we might finally have resolved the issue where this whole idea of Helio becoming the newest resident of Monaco arose.


Kevin Savoree, now an executive at Andretti Green Racing, said when he handled accounting work for Castroneves in 1999 and 2000, the plan was to set up a legitimate deal in which much of the two-time Indianapolis 500 winner's income would be deferred. That meant his taxes owed to the IRS also would be deferred until he actually got the money.

"Helio Castroneves never suggested that you do something improper, right?" asked Castroneves attorney David Garvin.

"Absolutely not," Savoree replied.

But Savoree acknowledged helping draft a memo describing the ultimate goal as having Castroneves "maintain a residence in a tax haven, such as Monaco." Castroneves, a Brazilian citizen in the U.S. on a work visa, currently lives in Coral Gables, Fla., just south of Miami.

(MORE from Associated Press)
So in 1999 Helio talked about moving to Monaco. He's a citizen of Brazil, he currently resides in Florida, but
10 years ago
he talked about moving to Monaco. OK then.
Yes,
auto racing celebrities often move overseas
to minimize their tax liability, but Helio isn't one of them. At least not yet he isn't, and last I checked you can't be tried for something you didn't do. This is like trying him for not paying taxes that aren't due until this May ... oh wait, that's also what the prosecution is doing.
Now before anyone starts exonerating Helio, remember the trial still has many weeks ahead. I've been told by one lawyer that this will probably last into May, which would effectively end Helio's season before it starts. We also have to endure more testimony regarding this concept of "constructive receipt" which determines if an individual has to pay taxes immediately or can defer them if payment is also deferred.
Helio might have an ace in the hole in this area, though, according to
SI.com
.
Bolstering this defense is that other drivers, including Eliot Sadler of Sprint Cup, have complained about convoluted verbiage found in racing contracts. Keep in mind, if the jury concludes that Castroneves lacked financial understanding, he would be poised to escape conviction: tax evasion requires the prosecution to prove that Castroneves willfully evaded taxes; if he was unaware that certain payments must be treated as taxable income, then he could not have committed tax evasion.
Which is great for Helio, but there's always the possibility that he is acquitted of tax evasion but convicted on charges relating to false testimony.
Lots of trial days ahead folks, but from what I can tell there's been no proverbial silver bullet yet revealed by the prosecution. But that's just one word butcher's opinion - if you see it differently please share.