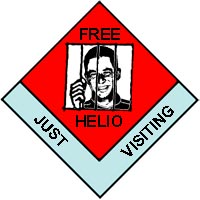 There's an AP story out today regarding the Helio Castroneves Tax Trial of the Century that resumes tomorrow, the crux of which is that Helio is being tried for money he never received. That's right - we're talking about paying taxes on the equivalent of an uncashed check. A very large check, the likes of which you or I may never see, but still money (or "monies") left unclaimed.

As Sandwedge points out, this is a bit of a Pandora's Box of a claim to charge someone, basically saying the taxpayer is obligated to pay taxes on money they should have received and not funds of which they actually took possession. The deal here is that Helio was advised (and presumably authorized) to allow for Team Penske to pay a significant portion of earnings to a separate entity, an entity that would hold the money for him for a period of time so that he wouldn't spend it all as foolish young men are often prone to do. In fact, as the defense argues, this is not unlike a 401(k) that you or I might have.

And in the realm of law this seems like a sound basis for a legal argument. Was Helio acting responsibly under advisement in delaying the receipt of these funds or was he attempting to skirt tax laws? That's a fair question for lawyers to sort out, but there's one point the prosecution keeps making that seems entirely nonsensical to me.


Castroneves planned to pay the IRS when the "deferred royalty agreement" - a way of delaying income described as similar to a 401(k) - at Fintage comes due to him in May of this year, defense lawyers say. It's not unusual for athletes to receive some compensation at later dates, they say.

"Athletes ordinarily have a short period of economic productivity in their youth, and they may not be responsible enough to manage the money for a lifetime if they receive it all at once," Bennett said.

(U.S. Attorney Matt) Axelrod, however, said the whole arrangement is fictional, with Castroneves' ultimate goal to move out of the U.S. to a tax haven such as Monaco where he would eventually get the Penske money tax-free.
Alright, hold the phone. I suppose it's entirely conceivable that Helio might one day move to a tax-free nation, but if the taxation on these funds is, as the defense holds, due in May, I'm pretty certain there's no way Helio is going to bail on the opportunity to continue his driving career THIS YEAR and head off to Monaco. I mean, I can say with reasonable certainty based on his projected income that this May he'd be somewhere in Indiana and not across the Atlantic Ocean. And by reasonable I mean 100% chance he'd be at Indianapolis Motor Speedway.
There are other issues in the trial that need to be addressed, including charges of giving false statements to the U.S. government, but if the prosecution agrees that this taxable income was due - at least on paper - this year, then making the argument that Helio was a going to flee the country to claim $5M, while he had so much earning potential ahead of him, seems, well, ridiculous.
In a related note,
Paul Page is offering to pass along messages
of encouragement to Helio. You can send them to Paul via his own email listed at
his blog
if you so chose.