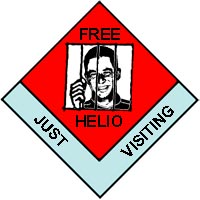 On Friday the prosecution concluded their case against Helio Castroneves, and after featuring witnesses who's testimony rendered certain members of the jury panel unconscious, they brought out the big gun: an I.R.S agent. Seriously, would you rather have an agent of the F.B.I. or the I.R.S. knocking on your door? Either way you're peeing your pants, right?

At any rate, the agent, Joann Levitt, said that Helio not only owes $2.3M in taxes, but that he had thousands of dollars in improperly claimed deductions as well as numerous sources of income that he failed to declare, like free clothes and airline tickets.

Which means if you won a hat or shirt in a recent VERSUS-related promotion at some other IndyCar blog, you had better declare that income, buddy.

This week the defense will begin their, uh, defense, which may involve a disproportionate number of character witnesses. As prep, take a moment to read Ryan McGee's outline of the defense's arguments (although I suspect most of you well-read folks already have seen the article). It presents an interesting timeline of events that occurred largely around the death of former CART standout Greg Moore, as well as explains with clarity how we got a Panamanian company and a Dutch company controlling funds for a Brazilian living in the USA.

Here's McGee discussing not just the case, but the possible impact on Team Penske.