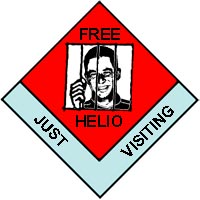 As maddening as the length of the offseason has been, the content filling up the spaces in between hasn't been overly encouraging. We've endured bad economic news relating to team downsizing, driver unemployment rising, and even the loss of a race in Detroit, but no news has weighed more heavily on fans than the pending tax evasion trial of Helio Castroneves.

For those who weren't aware, Helio's trial started this week with jury selection and opening arguments. The trial is expected to last four to six weeks, which means Team Penske has already said Will Power will represent at the opening event at St Petersburg. I guess that's an early victory for the prosecution.

But beyond that there hasn't been much news, at least not proportionate to other celebrity trials. Maybe law experts are hesitant to comment on a tax case. Maybe Helio isn't exactly a prolific celebrity. Maybe with the 90-plus-percent conviction rate on Federal cases Helio's goose is already cooked. But even with all of that there still should be some reporting of court proceedings.

Well, your humble host has decided to dig around and see what could be found, and after countless milliseconds of Google searches I've managed to discover a handful of links. It's not much, but hopefully there's something you did not know will be included in this overly long post.

The best place to start is an article from late last year from Car and Driver that indicates much of what is being built in this case originates from a conflict Helio had with another two-time winner of the Indianapolis 500.


On June 11, 1997, another Brazilian, ex-driver Emerson Fittipaldi, then 50, a two-time Formula 1 champion and twice Indy 500 champion, had signed a five-year contract to manage Castroneves. A little over two years later, Castroneves fired Fittipaldi, several days after his then-team owner, the late Carl Hogan, announced he was folding Hogan Racing on October 28, 1999.

Less than a week later, Castroneves signed a three-year deal with Roger Penske for $2 million per year, negotiated by the motorsports über-lawyer Alan R. Miller, to create one of the most enduring partnerships in modern racing.

Fittipaldi was not pleased, and in February 2000, he sued for $3.3 million, claiming breach of contract. The case was finally heard in 2004, fought over by some of Miami's legal super heavyweights. A jury did not award financial damages to either Brazilian. Fittipaldi appealed all the way to the Florida Supreme Court, where he lost and was ordered to pay $60,000 for Castroneves' appellate legal fees...Five of the seven counts allege the crimes continued until the last day of the Fittipaldi civil trial, while several exhibits in current filings were lifted from that case.
Which brings us to the actual list of indictments themselves. What seems to be at the core of the case is two companies, Seven Promotions and Fintage Licensing, that may or may not be legal entities.
It appears Seven Promotions is based in Panama, but is run by Helio's dad, who reportedly helped garner financing for much of Helio's early career.
During opening arguments
the prosecution said Helio - not his father - ran this entity, but I don't know how critical that presumption is to the case. (Paging Roger Cossack...)
According to the indictment, Helio and his advisors were reluctant at Team Penske's insistence at withholding 30% of his paycheck to be deposited in a Seven Promotions account, so that's where Fintage Licensing comes to be. From the
Department of Justice
.
The indictment specifically alleges that Helio Castroneves, Katiucia Castroneves and Miller engaged in a scheme to avoid paying taxes on the $5,000,000 in licensing agreement income by creating a "deferred royalty plan" that required Penske to send the $5,000,000 payment to an offshore company – Fintage Licensing B.V. (Fintage) – in the Netherlands, instead of to Seven Promotions.

Despite advice from outside tax counsel that Helio Castroneves would not qualify for the deferred royalty plan and would owe income tax on all payments under the licensing agreement if he or any member of his family owned or controlled Seven Promotions, the three defendants engaged in this deferred royalty plan.
So another issue being discussed in court will no doubt be the legality of Fintage and the tax liabilities that have resulted from depositing money there.
Now, this Alan Miller guy is apparently very will known in racing and is highly thought of outside of this trial.
He also represents Jimmie Johnson, Martin Truex Jr, and Clint Bowyer
, some of whom may be called to testify during the trial. Additionally Roger Penske and Juan Pablo Montoya may appear as well.
Will at
is it May yet?
has
a partial list of declared witnesses
, as well as some
great pics from Helio's early days
. (Hey Will, if you're reading this, quit messing around with NASA and get back to updating your site. And thanks for allowing the unauthorized use of one of your graphics in this post.)
Coincidentally Miller also reportedly represents Danica Patrick, who is
auditing her own financial paperwork
as we speak. I tried to garner some meaningful information on Miller in an SI.com article by Tim Tuttle but all I got was "
He's a good friend. We've eaten sushi together in three countries.
" Thanks, Tim.
So after all of this searching it appears there's exactly one place that's offering any kind of meaningful news and analysis relating to the trial:
accountingweb.com
. Bookmark
this link
and check back daily, as they appear to be offering some semblance of insight into the direction of the trial. Score one for the accountants.
There's also one last place you can check and that's
Helio's personal blog
. It does have some fun pics of him and his nephew, but for the most part it doesn't seem to be updated much. Then again, that seems to be the case nearly everywhere else.
UPDATE:
Will has indeed answered the call, finding more possibly distressing news for everyone's favorite fence climber.
Well, the prosecution is arguing that some of the potentially funneled money wasn't only ducking taxes in this country, but also in Helio's homeland of Brazil. Currently, there's debate between the prosecution and defense over whether this is pertinent to the case at hand and whether an expert on the Brazilian Tax Code should be allowed to testify.

(MORE at is it May yet?)