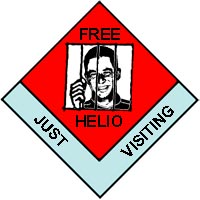 Here, the fortunate ones through money, or influence, or luck, might obtain exit visas and scurry to Lisbon; and from Lisbon, to the New World. But the others wait in Casablanca... and wait... and wait... and wait.

Like the WW II refugees in Casablanca waiting at Rick's Café Américain, so to must we all continue to wait for verdicts as for yet another day the jury in Helio's trial has deliberated without conclusion. However, there are two notes worth, uh, noting.

1. The Judge rejected the motion for a mistrial. Defense attorneys had argued that because the Judge Donald Graham instructed jurors that a "binding agreement" could be "written or oral", which apparently never came up in the trial, that this shoudl be a mistrial. Shockingly (or not) the good Judge decided not to declare a mistrial on himself.

2. The Judge validates an argument of the defense. One of Helio's primary arguments has been along the lines of "I'm not evading anything, and I'm planning on paying the taxes when they're due this year." I'm paraphrasing, not quoting. I only quote Helio when he says "Fun-tastic!". Anyhow:


Early in the day, the jurors submitted a set of questions to federal Judge Donald Graham. The key question was whether a taxpayer who agreed to defer income to later years could delay payment of federal taxes to the years that he was actually paid.

The judge's answer was 'yes'. This is considered a critical issue because Castroneves, who's been at the courthouse every day during jury deliberations, has said he intended to pay the taxes he owed after he started receiving money next month from a special account that had been set up.
I'm not legal expert, but...well, I'll wait for legal experts in the house to comment on this. In the meantime I'll get to work on an "As Time Goes By" reference.