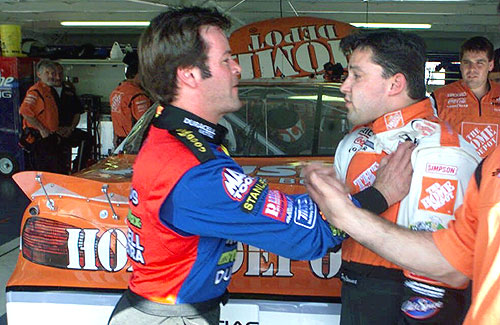 There hasn't been an actual story yet, but over the last 24 hours there have been a few mentions of a forthcoming press conference on Monday that says some N-Word team is going to announce an IndyCar team.

Curt Cavin attempted to answer as much in his Q&A today.


Question: So, what's this about a N****R team coming to Indy this year? (Tim, Xenia)

Answer: Gossip has everyone from Tony Stewart to Robby Gordon, but my sources say John Andretti with Richard Petty Motorsports.
That sounds like a bit of a yawner since John Andretti raced last year at Indy, although racing under the "Richard Petty Motorsports" banner would be noteable. Than again, Richard Petty doesn't own that team, so maybe it's back to being a yawner.
But then things got spiced up today when Mike King added to this rumor. During IMS Radio coverage of this morning's practice session on the streets of St Pete King added (without shouting) "It's somebody that already should have won it."
No offense to John Andretti, but I don't recall an Indy 500 that he should have already won, so that would take his name out of play and put two others in the rumor mill.
First is Robby Gordon, who owns his own team and has done "the double" of competing in both The Greatest Spectacle In Racing and the Soda Pop 600 stock car race that evening. No driver has attempted this 1100-mile feet in recent years because the logistical problems presented after the start of the Indianapolis 500 bumped back to later in the day, but it's not impossible to think Gordon would return. Plus, he nearly won the race in 1999 before running out of fuel on the next to last lap, so he fits King's criteria. Gordon also threatened to
take his team to the IndyCar Series
last year.
Then again, as
16th and Georgetown
notes, there could be issues with Toyota for Gordon.
But more newsworthy would be the the idea that Tony Stewart is the guy in question. Smoke held the pole (and at the time a track record) in 1996, and he also did "the double" in his younger, leaner years. But now he's an owner and not just a racer, but one who has
recently appeared in a press conference with AJ Foyt
, sporting the famed "#14" of Super Tex lore on his Chevy.
If this is going to be a big deal requiring a press conference then the smart money would seem to be on a Hoosier like Stewart, possibly in partnership with Foyt. (Or maybe it's former Truck series driver Paul Tracy since he's 1 to 1 on the press conference to race ratio and almost won the race in 2002.) We can sit around and guess all weekend, but personally I'd just like to see Sam Hornish Jr return over any of the aforementioned.
I'll now do my impression of that kid in "Shane" by yelling "Saaaam! Come baaaack!".
UPDATE:
I totally missed this in my email barrage this morning. From the braintrust at
TrackSide Online
, who I should have read before anyone else. Here are the details, which under the heading of "make his debut as a car owner" would seem to remove Robby Gordon's name from speculation.
A media teleconference will be held Monday, April 6, to announce the car entry of a NASCAR team owner in the 93rd Indianapolis 500 Mile Race set for Sunday, May 24.

The teleconference is set for 3:30 p.m. EDT and will follow a 2 p.m. press conference held in the North Green Room at the base of the Indianapolis Motor Speedway's Pagoda.

The NASCAR team owner will make his debut as a car owner for this year's Indy 500. On May 24, the owner will join past Indy 500-winning team owners Roger Penske and Chip Ganassi as the only team principals with entries in both Memorial Day racing classics, the Indianapolis 500 and the Coca-Cola 600 in Charlotte.
CAVIN WAS RIGHT:
And it involves Dreyer & Reinbold.
IndyCar Series sources say that Richard Petty Motorsports, in conjunction with Dreyer and Reinbold Racing, will field a car for John Andretti in this year's Indianapolis 500. A formal announcement is set for Monday at the famed Indianapolis Motor Speedway.

(MORE from AOL FanHouse)
MIKE KING RESPONDS:
King just read out loud an email from a fan who asked if John Andretti was the guy and Mike said "This is not the driver and team we were told." So, ladies and gentlemen, re-start your wild-ass speculation.