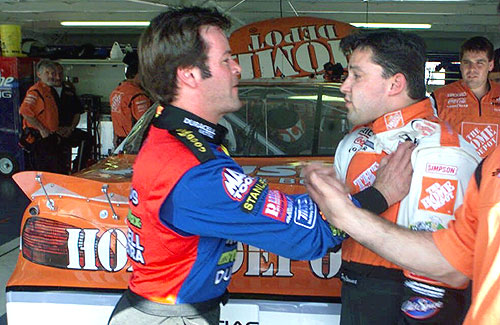 When dealing with a tempestuous fellow like Robby Gordon, you never know what he really means. It seems Robby - who long ago made the move to stock cars along with Tony Stewart, although with distinctly different results - has not only been talking of trying to do "the double" of the Indy 500 and the Soda Pop 600 this year, but now is so frustrated with a penalty he may just leave tin tops altogether.


If the commission upholds the point penalties, Gordon will remain in 37th place in the owners standings, significant in that only the top 35 are locked into the field for each Cup race. Should the point penalty be rescinded, Gordon would be 21st in owner points.

Gordon indicated Tuesday during testing at Phoenix International Raceway that the loss of his appeal might drive him to the reunified IndyCar Series. Gordon said he could field his own car in the open-wheel series.

(MORE from the Sporting News)
I may be wrong here, but I believe Mr Gordon's sister is known to be a close personal friend of Ryan Hunter-Reay, so much so that there was talk of Gordon starting an ICS team with Ryan last year before he was quickly hired for the Ethanol ride. So while this may be belly-aching on the part of the Gordon not named Jeff it's not entirely out of the realm of the possible.
Would the basket of freebies offer extend to N-Word refugees as well?