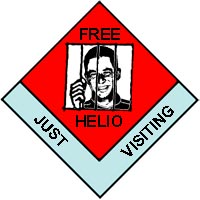 Once again, friends, we return to the Greatest Spectacle in Litigating.

This week the prosecution continued to state their case against Helio Castroneves, introducing evidence that links everyone's favorite fence climber to the infamous Panamanian entity known as Seven Promotions. This entire case is, it seems, all about Seven Promotions and whether or not Helio Castroneves owns the company, and if so whether or not he lied about said ownership.

So here, according to the Miami Herald, is what prosecutor Barry Axelrod dropped on the jurors.


(Helio's representative Alan) Miller consulted with tax lawyers in New York, who proposed that Penske pay Castroneves through a Dutch entity called Fintage Licensing. It would set up a deferred annuity account so that he could receive the money later.

In 2002, the New York lawyers told Miller that sending Castroneves' Penske income to the Netherlands firm would be fine on one condition -- as long as the driver didn't own the Panamanian company, Seven Promotions. If he did, then he would already be responsible for the taxes on the Penske income because it was supposed to be sent to Seven Promotions under his contract.

''The Castroneveses and Alan Miller faced a big choice,'' federal prosecutor Matt Axelrod told jurors. ``They lied.''

They told the New York lawyers that Castroneves didn't own the Panamanian company, he said. Black and other defense lawyers have maintained that the driver's father, who goes by the same name, owned Seven Promotions and set it up to help his son's career.

But earlier this month, Penske's general counsel, Bluth, testified that Miller had told him back then that the Panamanian company was controlled by the younger Castroneves. Prosecutors also produced a 1999 agreement between Castroneves and Seven Promotions saying the driver owns all shares of the Panamanian company.
I seriously doubt "New York lawyers" is an actual law firm. Perhaps these esteemed attorneys are in witness protection, but identifying them anonymously seems, at least to this word butcher, a bit weak. That said, the document from 1999 seems to be the most damning evidence in the case thusfar, although since Helio and his dad go by the same name it may only further the confusion towards a possible conviction.
But wait, there's more. From
AccountingWeb's log of the trial
:
Further evidence was introduced that suggests that Castroneves did own Seven Promotions, in spite of the fact that he claims his father was the owner. Guido Chipy, a Miami banker who was involved in Castroneves's 2001 mortgage loan, testified that documents provided to the bank at the time the mortgage was initiated show that Castroneves was the sole owner of Seven Promotions. Chipy added that most of the information for the mortgage application was given to him by Castroneves's attorney, Alan Miller, and that Castroneves only signed the application. That supports the defense assertion that Castroneves was detached from his own financial matters and left the details to his attorneys.
As a person with a distinctly Italian surname, I'm going to totally ignore the fact that this witness is named "Guido Chipy". (Holy macaroni!) However, this mortgage application seems to create a serious problem for Helio. If it's accurate then it proves his ownership of Seven Promotions and means he not only owes those taxes but has in fact lied about this. If it's not, then he clearly lied on his mortgage application, and although that isn't exactly a felony it would show that Helio is not above lying about matter related to finance - which at it's most basic level is what this case is about.
Then again, maybe all of this is irrelevant to the people deciding his fate.
During what became an exercise in paperwork tedium (at least two of the 17 jurors dozed off during the morning session), the two-time Indy 500 champion's entire financial life was on display for everyone in Courtroom 13-4, including a group of local high students on a field trip.

(MORE from ESPN.com)
Next week the defense should take over.