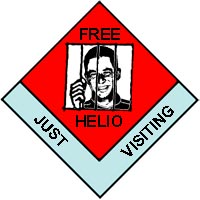 The prosecution has presented it's case for a "pattern of deception", the defense has called Helio's dad to explain who owns that Panamanian company, and closing arguments have concluded. The jurors will now be awakened from tax-induced slumber and asked to decide the fate of everyone's favorite fence climber.

Guilty? Not Guilty? If the jury acquits him he could be in a Dallara in Long Beach next week.


"If he doesn't have any issue coming out of this, he'll be in a car in Long Beach," (Roger) Penske told reporters in St. Petersburg on Saturday. The second IndyCar race of the season, the Long Beach Grand Prix begins next Sunday. "If he'd have been done (with the trial) Thursday of this week, we'd have put him in a car here on Friday. We've never backed off a minute. In fact, it's a tough situation because he doesn't have a bad bone in his body and this is a complex offshore tax, U.S. government ... all of the above involved.

"We certainly understand the concerns everybody has for him. We're hoping the jury sees he's not a culprit in this situation."

(MORE from AccountingWeb)
Then again, he could be incarcerated. The jury is officially out.