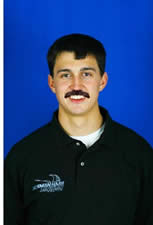 From the mind-bogglingly cluttered front page of IndyCar.com.

Chat with Rahal about The Glen and more

Chat with Newman/Haas/Lanigan Racing driver Graham Rahal at 7:30 p.m. (ET) June 18 via the Watkins Glen International Fan Forum.

Log on to www.TheGlen.com/forum, fill out the short registration form and you're ready to go. Two other IndyCar Series drivers will participate in the weekly chats leading up to the Camping World Grand Prix at The Glen on July 6.

Suggested questions include:
• Which track has the "softest" walls?
• Big Macs or Quarter Pounders?
• Is the extensive IndyCar series schedule ruining your golf game?
• Come on, WHEN are you growing the freaking mustache?
• Blue Jackets or Crew?
• They didn't give you champagne because of your age, but did Carl Haas give you one of his cigars when you won at St Pete?


UPDATE: Will from Is It May Yet? informs us that during the chat Graham typed the "five most devastating words in motorsports".


I'll never grow a mustache
Pity. Guess we'll just have to keep over-using this photo then.